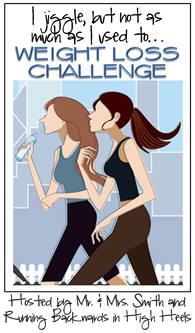 Okay so i thought this looked like a GREAT and encouraging way to motivate me more (because one can NEVER have TOO much support and motivation) to lose more weight! Now, I personally want to karate chop them because they only have 6lbs to lose and I have A LOT more than that, but maybe that means I'll win!!!
We'll see...
Anyway i'm linking up with this challenge! 8weeks to lose as much as we can! My Goal is 16lbs!
I'm at 167 today (down 5 from January) so that would get me to 151! I'm tempted to say 17 just to get me to 150 or 18 to get me into the 140s, but lets not be unrealistic or unhealthy. 1-2lbs per week is healthy!
I'm going to try to make better decisions with my meals, eat smaller portions. Exercise at lunch every day and try to add in 2 more workouts a week (could be in the morning... dvd. could be in the afternoon...stroller ride for Kinsley. could be on the weekend! we'll see!).
I've worked out twice this week so I'm proud of myself so far! Lets keep it going!